Our training offers a way to dramatically improve your ability to safely enhance your alignment, flexibility, strength, physical skill and perhaps most importantly, your sheer enjoyment of movement – all while gaining the body awareness to stay safe and healthy in daily life and training.
Heal Yourself + Move utilises an array of relaxation, suspension and compression exercises to simultaneously release muscular tension and allow the nervous system to create more functional neural pathways for improved technique and dynamic action.
When the body relaxes tension it begins to naturally increase the speed and strength of blood flow. This process is vital for cellular nutrition, muscle and fascial reconditioning and the reinstating of normal neural impulses to establish muscle tone.
By allowing floating decompression at the joints, Heal Yourself and Move allows the body to access core muscles automatically, whilst increasing balance and proprioception.
This in turn allows for every part of the body to relax and connect via its fascial network and is the essence of a connected, coordinated, powerful and graceful ''great'' mover.
If Heal Yourself and Move is something you would like know more about, check out the example video below!
Zac Jones has spent a life immersed in movement
Zac has also served as a coach at the Australian Ballet School for over five years and in 2018, completed his Masters of Fine Arts in Choreography at the Victorian College of the Arts.
Zac has always shown a keen interest in diversifying his training and techniques and has subsequently pursued his passion for movement in an array of other disciplines alongside dance.
As a martial artist, Zac has taught and holds a 2nd degree black belt in Yoshinkan Aikido, is a Lakan 1st degree black belt and licensed teacher in Filipino Arnis and has undertaken extensive and ongoing private tuition with Kung Fu and Russian Systema masters.
As a body-mindfulness and somatic teacher and practitioner Zac has studied Continuum, Ideokinetics, Skinner Releasing, Body-Mind Centering, Contact Improvisation and many other practices to expanding the potential of the body and mind together.
For many years Zac has run a Pilates and Movement Rehab Studio in Melbourne CBD that specialises in merging the many different styles of training he has learnt and taught into one integrated system that helps heal and improve the ease and quality of movement for any body at any age.
A former Pas de Deux Strength and Conditioning coach and Contemporary Ballet teacher at the Victorian College of the Arts, he began to apply these methods to elite dance students, consistently achieving outstanding improvements. As a result of these successes, Heal Yourself + Move was conceived.
Drawing on his varied experiences, Zac's teaching style focusses on relaxation and trains the body to be the teacher. This has gone on to help countless individuals overcome injury, increase range of motion and develop strength without strain.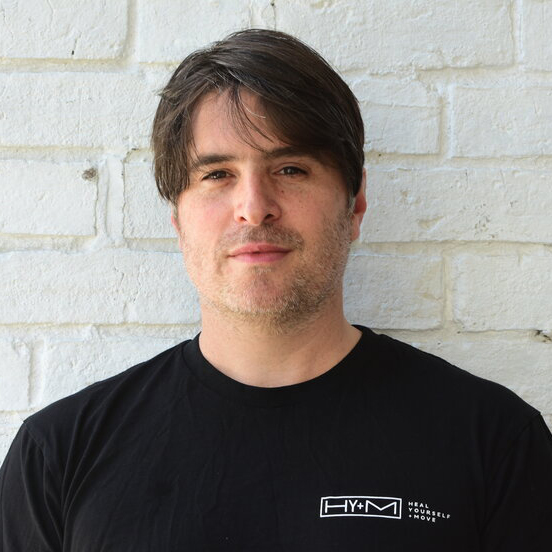 Zac Jones
Zac Jones is a graduate of the Australian Ballet School, a former soloist with the Queensland Ballet and Expressions Dance Company.
Subscribe to HY&M
Sign-up to receive news and updates.